Sri Lanka professionals, vehicle owners, over 18s, mandated to register under income tax law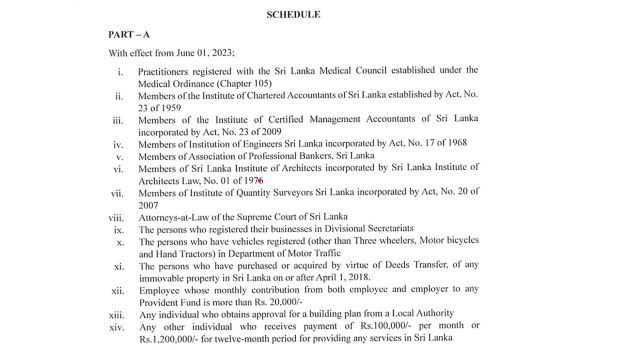 -economynext.com
COLOMBO – Sri Lanka's doctors, accountants, bankers, architects, quantity surveyors, lawyers of the Supreme Court have to be registered with the Department of Inland Revenue (DIR) by June 1, according to a gazette issued under the country's income tax law.
Those who have registered businesses at Divisional Secretariats, who own vehicles other than a three-wheelers, motor bikes or hand tractors also have to register with the DIR.
Those who have acquired by Deed of Transfer any immovable property after April 1, 2018 are also mandated to register with the (DIR), as are those who get approvals for building plans from a local authority.
Also mandated to register with the DIR are individuals whose contribution to the provident fund is more than 20,000 rupees a month from both employer and employee and those receiving payments of 100,000 rupees a month or more than 1.2 million a year for providing any service in Sri Lanka.
From January 1, 2024 anyone who is over 18 years of age by December 31, 2023 or who is over 18 years after January 1, 2024 will also have to register with the department.
Until now under principles followed by colonial rulers income tax filing was voluntary.
Income tax kills VAT generating real economic activity and transfers spending power to bureaucrats and politicians.
Sri Lanka however lost both income and VAT payers in 2020 under a stimulus attempt. VAT rates have also been raised, since then.
Download gazette on income tax registration requirement here.
-economynext.com/ENCL