Sri Lanka to stop quarantining first COVID contacts at centres
As 541 new cases reported Monday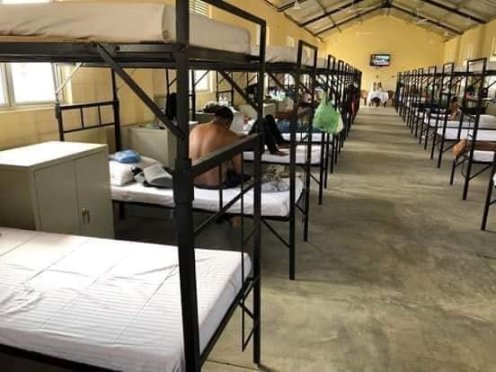 -thuppahis.com
COLOMBO – Sri Lanka will halt institutional quarantine of first contacts of confirmed COVID-19 patients and ask them to home quarantine, the government announced Monday (26), as 541 new cases were reported, taking the country's novel coronavirus tally to 8,413.
Army Commander Lt. General Shavendra Silva who also heads the National Operation Centre for Prevention of COVID-19 Outbreak (NOCPCO), announcing decision to 'home quarantine' first contacts said the new process had received approval from President Gotabaya Rajapaksa.
"Until today all first contacts of a confirmed patient was taken to a quarantine centre. But in the future, they will be home quarantined," he said, hopeful those so quarantined will stay at home and engage in quarantine, not go out and be a threat to their neighbhours or society.
"We appeal to everyone to stay at home and engage in quarantine," he added.
Sri Lanka has seen a rapid increase in the number of infected persons linked to the Peliyagoda fish market, deemed a sub-cluster connected to the Minuwangoda cluster, which had grown to 4,939 COVID-19 positive cases by Monday.  The rapid increase has also meant the number of contacts have increased at a rate faster than new quarantine centres can be built.
Of the 541 COVID-19 confirmed cases reported on Monday, 499 are linked to the Peliyagoda fish market and 42 are contacts in quarantine centres.
Sri Lankas Public Health Inspectors Union said they were working hard to trace the first and second contacts, but many have already tested positive for the virus.
The new procedure is a radical departure from the process followed by the most successful countries like Vietnam, which has completely killed the epidemic and had only one outbreak in August 2020.
In the first week of October, hundreds of first contacts from the Brandix plant in Minuwangoda went missing after they were told to go home and wait for the PCR results. Eventually over 1,000 persons tested positive in and outside quarantine facilities.
Home quarantine increases the likelihood that all family members of contacts, who had not been infected initially, including older people, contract the virus and have to be hospitalized.
Sri Lanka's Government Medical Officers Association (GMOA) has called for two levels of treatment, recommending hospital care for the more serious cases, treatment centres overseen by a doctor for younger patients without underlying conditions. The Sri Lanka Medical Association has also said all  positive cases do not necessarily need to be institutionalized at hospitals, suggesting large halls or dormitories with good ventilation can be converted as isolation centres. This, they have said in a statement, will reduce the burden on the healthcare system and the hospitals. They have emphasized national level hospitals should be reserved for maintaining tertiary care
-ENCL/economynext.com