Curfew in Katunayake police division from Thursday
As the Free Trade Zone records over 100 COVID-19 cases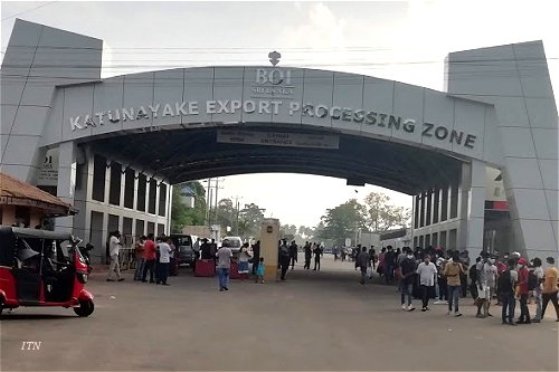 -ColomboPage
COLOMBO – The government on Wednesday (14) announced quarantine curfew will be imposed in the Katunayake Police Division from 5.00 a.m. Thursday (15), until further notice. The decision comes in the wake of 43 workers in the Katunayake Free Trade Zone (FTZ) testing positive for the novel coronavirus on Wednesday, taking the number of cases detected in the Zone to over 100.
However,  Army Commander Lieutenant General Shavendra Silva, who is also head of the National Operation Centre for Prevention of COVID-19 Outbreak  (NOCPCO) , said although the curfew is in effect, factories in the Katunayake FTZ  can continue to operate and the employees can use their service identity cards as  curfew passes. Army spokesman, Col Vijitha Hettiarachchi told reporters earlier in the day that PCR tests were conducted on several apparel factory workers in the FTZ on Wednesday, following the confirmation of 45 cases at Next Manufacturing Pvt. Ltd and Chiefway Garments. Several workers at AT&G garments and the Seeduwa Brandix plant had also tested positive for the virus.
Over 50,000 Sri Lankans are employed in factories in the FTZ.
Meanwhile, the Minuwangoda cluster has increased to 1,721, with 130 casesconfirmed on Wednesday.  According to a statement from the Government Department of Information, the bulk of the cases reported on Wednesday are close contacts of the workers at the Minuwangoda Brandix plant.
Dr Jayaruwan Bandara in his new role as spokesman, Department of Health Services, said the Minuwangoda cluster, though expanding by over 100 cases each day, is being managed well.
In a statement released by NOCPOC early Wednesday when only 17 cases were confirmed as positive, he said the numbers showed the health authorities were taking control of the situation.  However, the number of confirmed cases shot to 130 by evening, proving his comments premature.
Lt Gen Silva confirmed they were continuing to find COVId-19 positive patients from the Minuwangoda area as well as other areas, but said in all cases there has been some connection to the Minuwangoda cluster.
He also said the highest number of confirmed cases were from areas already under curfew, and urged all managers and staff at factories to observe the health guidelines inside the plants as well as inside the hostels that many of the staff members live.
-ENCL